We supply & install the very best Sectional Garage Doors throughout Bucks, Berks, Oxford, Herts, North West London, West London & South West London.
Sectional Garage Doors are made up of four horizontal sections, the steel doors are available in a single skin or in insulated foam filled panels. Sectional Garage Doors are also available in GRP, Steel and Timber.
There are many benefits when using this type of Garage Door because they open and close vertically a vehicle is able to park very close to the garage. They will provide good acoustic insulation to your garage space especially if it is used as a utility room.
They are a great option for any garage opening and are available in a large range of sizes and designs. All Sectional Garage Doors can have Electric Openers fitted as an option.
As a family run business we are small enough to care and big enough to meet all your garage roller doors requirements, devoting personal attention to each and every customer.
You may know immediately what garage door you want. If so, that's fine, just let us know and we will set about delivering exactly what you require. On the other hand, you may need some advice or guidance as to what is best for your individual situation. In this case, we are here to help. Help & Advice About Choosing Your Garage Door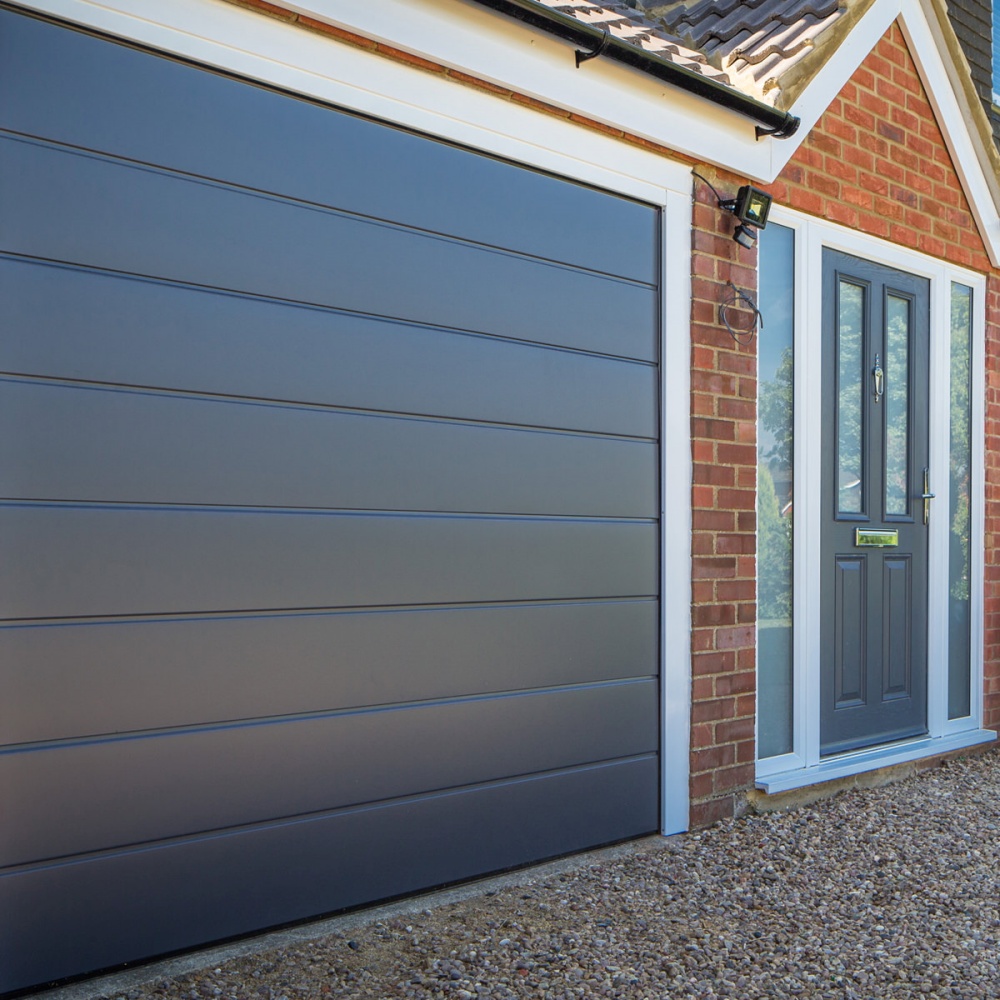 Easy to install – sectional garage doors are versatile enough to fit most types of opening
Space-saving – sectional doors maximise the drive-through width of the garage opening, and they open vertically, meaning you can park right up to them in the driveway
Security – there is no visible point of entry which will ward off opportunist burglars
Efficiency – sectional doors are well-sealed when closed and can be insulated further, as well as being easily automated
A Sectional door is made up from separate sections rather than a single panel. This allows for exceptionally smooth operation both manually and especially when electrically operated. 
Sectional doors have many other advantages over traditional Up-and-Over doors such as maximising the drive-through width of a garage opening allowing for close parking inside and out and giving greater headroom clearance to accommodate vehicles such as 4 x 4 and MPVs.
We do not sub-contract and our staff are employed by us and we take full responsibility for each and every fit.
Our staff are highly skilled and factory-trained, so that they are adept at fitting all makes of garage doors and genuinely know each product. This specialist knowledge ensures professional installation and seamless operation.
All of our products come with full manufacturer guarantees and our one-year guarantee on our labour.
All the doors and motors are CE compliant, fully tested and approved so you can be sure they comply with the latest UK safety legislation.

Why choose Chalfont Garage Doors For Your Garage Door?